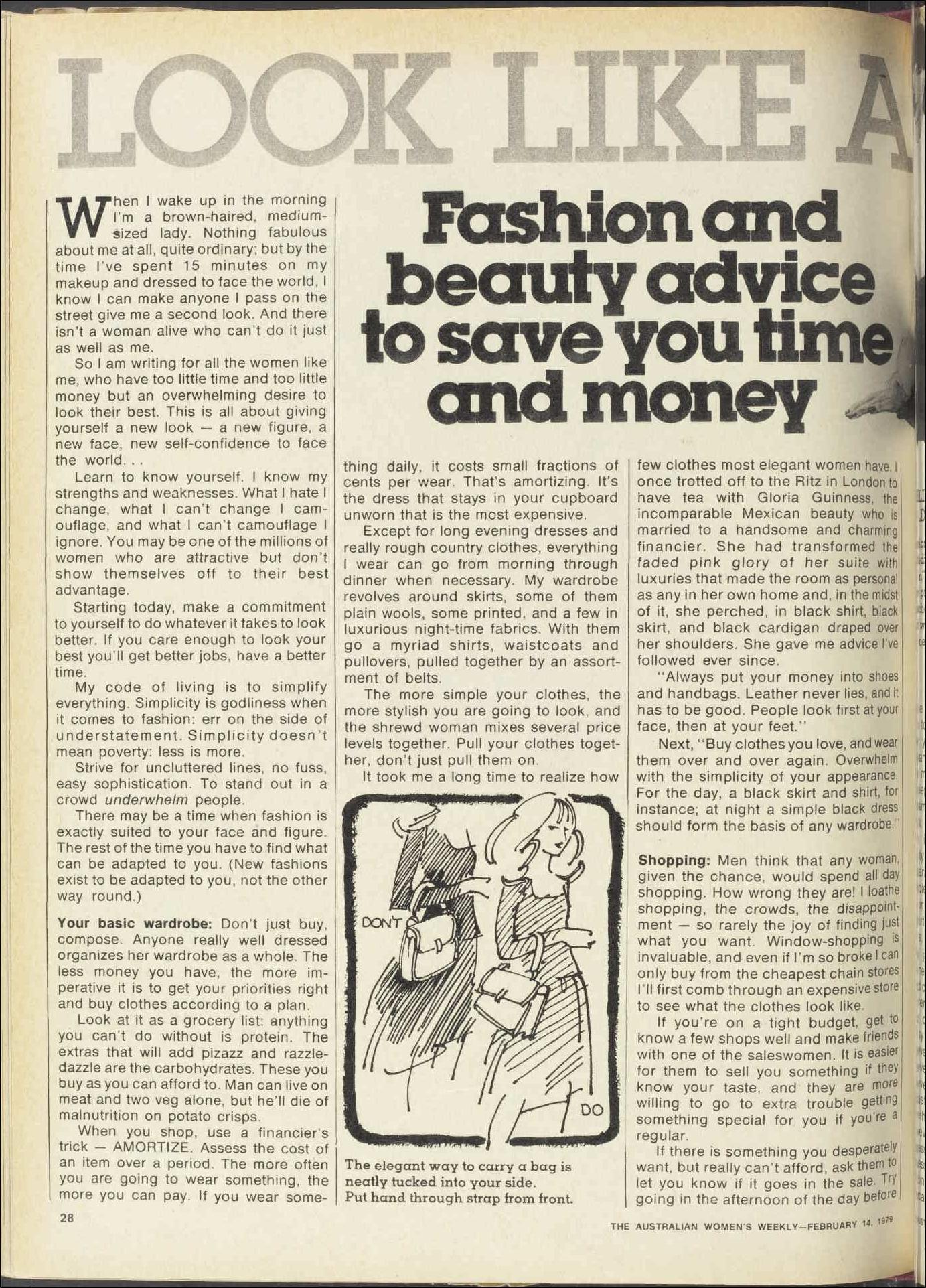 from Australian Womans Weekly Archives
More vintage hints: on wardrobe

Following on from yesterday's post about a 1978 book: Look Like A Million by Leslie Field. Some Leslie-isms from her book about building a basic, & affordable, wardrobe:
It often takes a little while to develop a strong personal fashion statement. Choose the look that suits you, & reflects your personality & taste. Never be a carbon copy of anyone, use your clothes to reflect your uniqueness.
How to keep it simple and do-able
for a basic wardrobe, don't just buy, compose

there are some things that you can't do without, & these we buy first

but we also need a bit of pizazz, & we buy these as we can afford to

the more simple your clothes, the more stylish you will look

mix several price ranges together.
Everything that Leslie wore could go from morning to dinner. Remember, she worked in a high-end magazine, in London. But we can do this in our own life, too. Her clothes were interchangeable, &, with bits added & subtracted, they could be worn anywhere & at anytime.
There are only two seasons, summer & winter, & summer clothes can, if necessary, take you through the coldest weather. The most elegant wardrobe can be built around:
skirts

a pair of trousers

a jacket

a raincoat

an assortment of shirts & pullovers

one dressy dress or shirt.
Leslie's LBD was a skirt & shirt, & it should look good, anytime, anywhere. Buy separates rather than dresses, to make your money go further.
Never throw a shirt away. (This is assuming, of course, that you buy clothes that don't date too quickly. A lot of clothes that are available today are trendy, meaning that we will only be wearing them for a short while). Shirts are where Leslie says have lots of different colours. And, almost all of hers were bought at sales.
Put an eye-catching colour next to your face so as to focus attention there.
To look long & lean, dress all in one colour.
She recommended black as the main wardrobe neutral, but of course that might not be the colour that you have decided to use, as your basic neutral.
Basic items
For beachwear, have something to swim in, & Leslie recommends that it doesn't cost too much, & a lavalava to cover up with. A lavalava is about a metre long, & 2/3rds metre wide, cotton piece of fabric. It can be worn tied: around the neck; on one shoulder; just above the bust; around the waist. Very popular in New Zealand as it is a very Polynesian garment. An enormous men's tee is another cover-up option.
A trenchcoat design is the best for a coat. (These have been fashionable & flattering for decades. Tres chic)
For evenings, you can wear a shawl. If you can only afford 1 jacket, buy a black (velvet) one.
It is perfectly feasible to have a wardrobe that will take you anywhere in the world, based on 3 skirts. At first I wasn't going to put this in, but as this was written for the times, 1978, & was for all women, I've included it. I simply thought about it & could see how it would still work today. Especially if you work in business.
1) One black (or your main neutral), in the style that flatters you best, in the best fabric that you can afford.
2) A floral print, with several different shades in it so that you can wear it with various coloured tops. In winter, you could wear it with a couple of layers of tops, tights & boots. In summer, for casual chic, we could have a coloured tee & jandals or sandals.
3) Another different one, eg: tweed, patterned or printed, striped, or denim.
Sweaters: collect them over the years, in a wide range of colours.
polo & vee necks can go under another jumper or a shirt, or wear it on it's own

Leslie recommended Shetland jumpers, in neutrals: black, beige, white, grey & navy. These are warm jumpers that may have traditional British patterns on them, or may have an interesting knit style. Here, it could be like a warm jumper in an interesting stitch.

have a solid cardi, in a heavy cable stitch & a big sloppy shape

another could have a lace or colour, pattern
And my own twist is that cardi styles do change, these days a lot of people wear a longish light weight sort of cardi, & there is always the little black semi fitted cardi.
Tees: the basis of any warm weather wardrobe. A cotton skirt, & a pair of jeans, can become a multitude of outfits based on different tees. Accumulate them in different colours & shapes over time. Leslie says to buy cheap ones, but I have done this & some are unwearable after the first wash: they just lose their shape.
Trousers: more often worn these days rather than skirts. If money is tight, wear jeans during the day & a perfectly fitted pair of trousers in black, or grey, navy or beige, for dressing up, & also to wear by day. Get a style of jean that won't date, & for many this is a straight leg look.
Old clothes for painting, gardening, etc....like a pair of old jeans & worn out tops.
Do it over time
This is how to systematically build a wardrobe, according to Leslie. Since finding this wee gem years ago in an op shop, I have taken much of her advice on board.