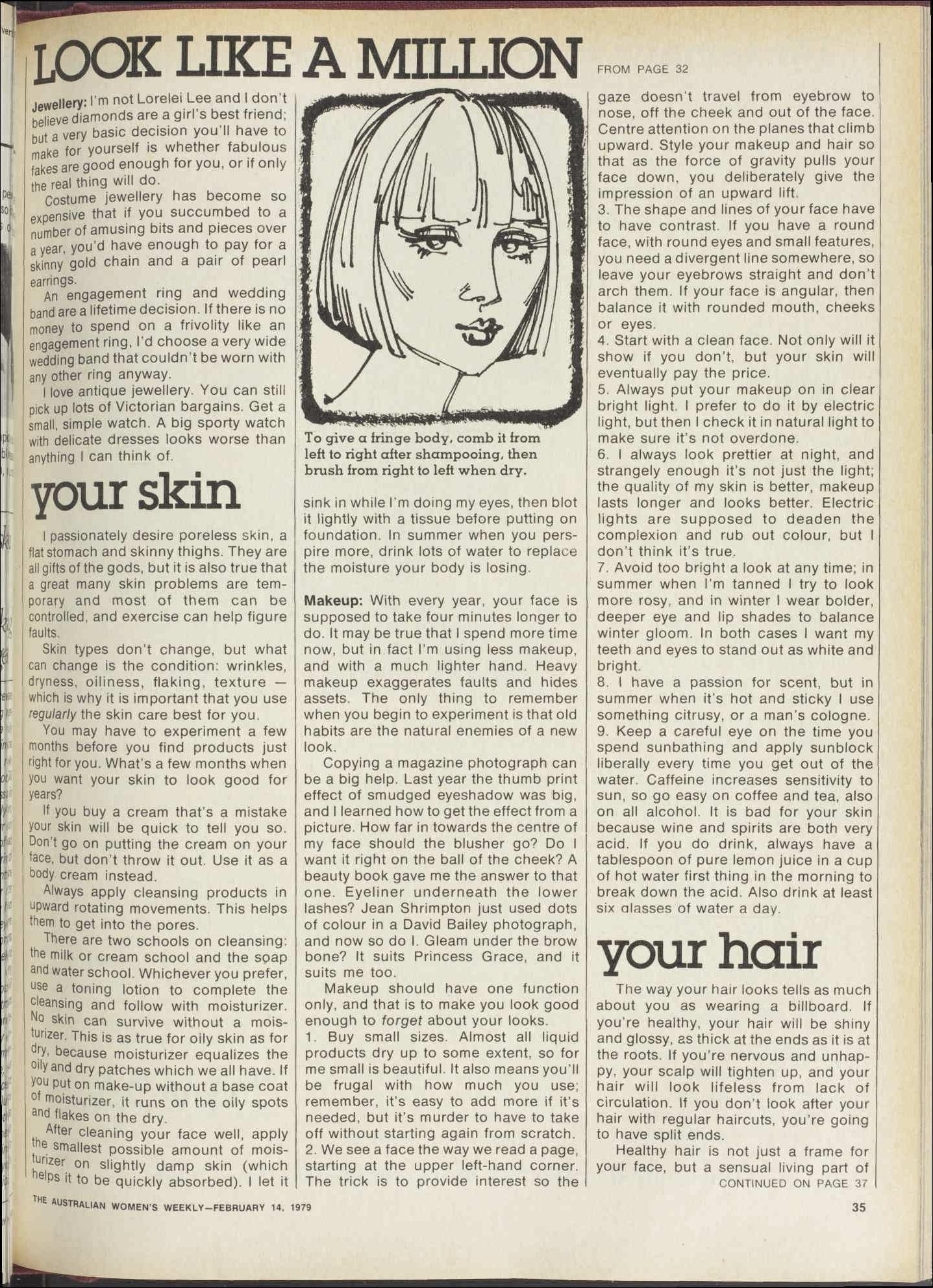 Australian Womans Weekly archives 1979
Know what to buy in sales
So we have looked at basic essentials for our chic wardrobe, based on still excellent advice from 1978: Look Like A Million, by Leslie Field. I have deliberately left out a few things, as, for most of us, they just aren't applicable. But here are the rest of the clothes hints:
Underwear: Stock up twice a year in the sales. Nude coloured bras are the most versatile.
Shoes: Leslie liked to buy good shoes, in the sales. She also bought herself boots, to last a few years. She recommended:
black pumps which never seem to go out of style

a pair of gumboots (wellingtons)

jandals

real ballet slippers to wear as slippers, & with tights

a pair of loafers, & Leslie's were black or brown Gucci ones

each summer she bought a pair of cheap canvas espadrilles with a straw sole, & she would throw them out at the end of summer. Because I don't like espadrilles, I chose instead to buy cheap, black, canvas summer shoes, also thrown out at the end of summer.
Investment buys: these are things that we buy to last quite a while:
coats

handbags

shoes

boots
Buy these at the sales too.
Make sure you keep dry in winter
Umbrellas: a necessity in this country. Have two: a wee fold-up one, and a big one with an attractive print. I have a small navy floral fold-up one, which is over ten years old, & a bright blue umbrella.
Nice, but not essential
Extras: For big occasion events, like an engagement party, especially your own, Leslie recommends to dress in something devastatingly simple. Meaning a simple yet stunning dress, short or long. And the 3 colours that are fabulous for big occasions, are black, white and red.
For dinner parties & other less formal events, buy little dresses, which can often be found in unusual places like lingerie, beachwear, younger people's, departments in big stores. Keep them & when you resurrect one, try wearing it differently, for example with a denim jacket, a shawl, tights. Try different things.
For ski & snowboard wear, use dark, solid colours which won't date quickly. In New Zealand, lots of people do these sports, & places like Kathmandu stores have incredible sales for snow gear, each year.
Accessories also add pizazz
Accessories: Leslie recommends never to throw any out, as they can come in useful. I can attest to that. Pick up bits & pieces at the sales.
Bags:
if you only have one, make it a good one & make it black (or your dark neutral), & buy it in a sale

evenings: use a simple, plain, cloth envelope purse. If you can get an antique purse/handbag, grab it! Some old ones with silver or golden links for the handle, & embroidery, are divine

Leslie used a straw mesh envelope for summer, & you can get very inexpensive flax Polynesian bags & envelopes very cheap

Leslie also used a big canvas tote for getting to & from work, with buses, the tube, walking, so that she could carry everything including a fold-up umbrella, with an envelope purse inside for her essentials. As this was in the new era of business briefcases, I think that it was most unpretentious. You could also pop a tote like this in your car as you sally forth each day.
Hats: if you're doing snowsports - you need appropriate headgear. In summer, get a plain straw one.
Belts: If you wear belts, & not all of us have the correct shape for them, collect them with interesting buckles, never throw them out.
Scarves: not everyone wears scarves, but the right colour can make a person look lovely. In winter, they are essential for some people. This is just me, but I know that only a couple of types of scarves look good on me, & sometimes, but not often, I'll wear a silky brightly patterned scarf tied as a man's tie.
Tights, woollen gloves, socks, etc: sales!!
Sleepwear: some women wear large men's tees, others buy pjs, others wear nothing. Leslie does recommend a bath robe type dressing gown which is also prudent.
Jewellery: very personal. Basically we tend to either wear real, & expensive jewellery, or costume jewellery which can include antique pieces & crystals. A personal choice. And now that we are all using our cell phones as our clocks, many don't wear watches anymore.
The secret to a special touch
Trademarks: anything that you would wear so often over a year that you'd feel naked without it. Leslie had medium gold hoop earings, a gold Cartier rolling ring, 3 miniature antique children's rings worn on her little finger, & her leather strapped Cartier watch, one of the most expensive watches, ever. She wore them all, everyday. I thought about this. One of my friends sells & teaches about crystals, & always wears 2 long crystal necklaces & earrings, & although they may vary, she always wears whatever is appropriate to her that day, from her collection. Another friend always wears a series of tiny gold hoops along the sides of her ears, the same gold rings & bracelet. A trademark can also be an usual bag, or the type of shoes that you wear.